Remembering 9/11/2001 ~ The Day The World Fell Silent
8:46 a.m. … a morning I awoke like any other day, turned on my computer, checked my email then, preparing breakfast for my family, I routinely switched on the news to see––a world in shock.
[youtube]http://www.youtube.com/watch?v=wNNTcHq5Tzk[/youtube]
The world fell silent while media blasted the news over television and radio in every language. Glued in shock and sadness, we watched as the World Trade Center collapsed and thousands of innocent men, women and children perish.
September 11, 2001, recorded as the most tragic terrorist attack in American history, still haunts us. But we hold the tragedy and grief in our hearts, the horror needs to be seared in the minds of every living soul … our children and their children must pass along the tragedy and  loss America endured, a tragedy brought on by hate, a tragedy that burned from a dark side of humanity,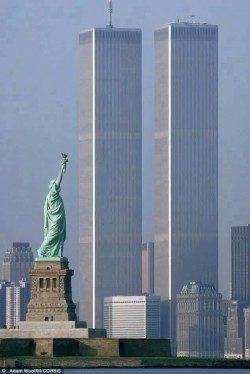 a tragedy that awakened a sleeping giant.
It has been fourteen years since that fateful morning. But we remember––and we honor all those who lost their lives.