Welcome to Casi McLean's Author Site––And Awesome Bewitching Author's Blog
I

'm

S

o

G

lad

Y

ou're

V

isiting M

y

 

Site

!
And Today, My Stop On Highway Cafe's Spring Tour
Don't forget to find the magical egg and add it to your basket!
While you're here, win prizes as you discover Casi McLean's Romantic Suspense, Time Slips, and Mystical Stories, all with a dash of supernatural and a sprinkle of Magic. When my fingers touch the keyboard, it's all about love …
Here's my recipe for a Springfastic day:
Grab your sunglasses, your favorite cool drink, and … wait, let's start with your favorite drink …What? You say you want Starbucks but you're trying to stay healthy…No worries! Try Chocolate Covered Katie… I always defer to Katie for decadent reciepies [that are always healthy] like this one:
Starbucks is everywhere.
They are taking over the world with their muffins, their macchiatos, their passion teas… And, of course, their signature coffee Frappuccinos. Here's a scary fact: one Starbucks Frappuccino contains 50 grams of sugar. That's more than twice the recommended intake for an entire day. The number is higher for a venti, and it doesn't even include whipped cream. (According to the Starbucks website, even their lite Frappuccino somehow contains 23g of sugar.) They're also $4 for one drink!
So here is an incredibly realistic copycat healthy Starbucks Frappuccino recipe that is both cheaper and much better for you!
Healthy Starbucks Frappuccinos
Yield:

Makes 2 large Healthy Frappuccinos
Ingredients:
Makes eight drinks for about $3!
2 cups milk of choice

1/2 tsp pure vanilla extract

2 tsp instant coffee granules (I use Mt. Hagen decaf or regular)

1/16 tsp salt (don't omit)

sweetener of choice, such as uncut stevia or 2-3 tbsp sugar

optional: a reader suggested adding 1-2 tsp fruit pectin for even extra thickness
Instructions
Homemade Starbucks Frappuccino recipe: Mix the ingredients together in 1 or 2 shallow plastic containers. Freeze. (You could also use an ice cube tray.) Once frozen, pop the blocks out of the containers. Thaw until just soft enough for your blender to be able to handle it. Blend each serving individually, until desired slushiness is reached. Add extra sweetener if needed, but do NOT add ice! It will dilute the flavor. Pour into two glasses and enjoy. Feel free to add cocoa, cinnamon, berries, chai, banana, or other flavors if you wish to your healthy Starbucks Frappuccino. And don't forget to leave a review if you try it!
For more great recipes go to: http://bit.ly/2pgUv53
I hope you're having fun with our Highway Cafe blog hop!
Be sure to scroll all the way down on this page and leave a comment to qualify for
And to qualify for

"T

he

Grand Prize

,"

look for my secret eggs, then go the to Highway Cafe's site and leave a comment there telling where you found MY eggs. You'll also see links there telling you where to find more eggs on the list of participating authors.
Now welcome to Casi McLean's Author Site! You're Ready To Choose A Great Book!
… And be swept away into a magical romantic suspense––like Beyond The Mist, the sequel to my 5-star novel, Beneath The Lake. So let me show you where it all began …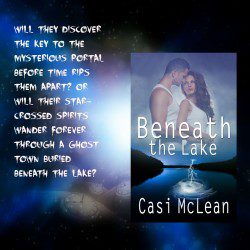 Beneath The Lake
A ghost town submerged beneath Atlanta's famous man-made Lake Lanier reportedly lures victims to a watery grave. But when Lacey Montgomery's car spins out of control and hurtles into the depths of the icy water, she awakens in the arms of a stranger, in a town she's never heard of–34 years before she was born.
When the 2012 lawyer tangles with a 1949 hunk, fire and ice swirl into a stream of sweltering desire. Bobby Reynolds is smitten the moment the storm-ravaged woman opens her eyes and, despite adamant protest, Lacey falls in love with a town destined for extinction, and the man who vows to save his legacy.
Threatened by a nefarious stalker, the wrath of bootleggers, and twists of fate, Lacey must find the key to a mysterious portal before time rips the lovers apart, leaving their star-crossed spirits to wander forever through a ghost town buried beneath the lake.
Read the first chapter for FREE ===>  https://spark.adobe.com/page/PYrNjPG6xjHCq/
Advertisement: 
Beyond The Mist is in production and scheduled for release this summer!

A stand alone timeslip romance, Beyond The Mist is book #2 in my Lake Lanier Mysteries Series and will be released by The Wild Rose Press late this summer. Here is a sneak peek:
When a treacherous storm spirals Piper Taylor into the arms of Nick Cramer, an intriguing lawyer, she never expected to fall in love. But when he disappears, she risks her life to find him, unaware the search will thrust her into international espionage, terrorism, and the space-time continuum.
Nick leads a charmed life except when it comes to his heart. Haunted by a past relationship, he can't move forward with Piper despite the feelings she evokes. When he stumbles upon a secret portal hidden beneath Atlanta's Lake Lanier, he seizes the chance to correct his mistakes.
A slip through time has consequences beyond their wildest dreams. Can Piper find Nick and bring him home before he alters the fabric of time, or will the lovers drift forever Beyond The Mist?
I promised you prizes...
Do you love romance and stories with a twist, the kind that take your breath away? Not with fear, but with a warm excitement and happy tears. Then you'll love my books! But don't take my workd for it.
I'll give you a FREE short story. Just click
here ===>  https://spark.adobe.com/page/pxekfzj8Rx4el/
If you crave strong, believable heroines and delicious hot heroes who tempt your deepest desires, then fan the flames and be swept into your innermost romantic fantasies. I promise you'll see, hear, and feel the magical eeriness of each fateful tale as your imagination swirls into mystical stories! 
Have I tempted you yet? Try watching my Beneath The Lake trailer...
Download Beneath The Lake now on Amazon
Now choose your favorite drink, grab a great book
and enjoy the rest of your Spring-Tastic Tour!
Still Want More? For a chance to win my complete DESTINY series, 5 Free Novelettes Today
Simply leave a comment below.
Destiny ~ 5 novelettes with a twist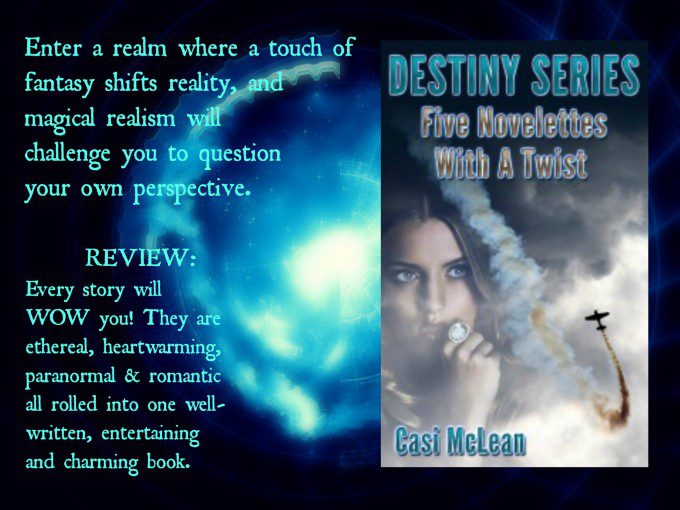 Advertisement  
Sroll down for the link to the Spring-tastic Tour Grand Prize!
Please Follow My Amazon Author Page
Spring-tastic Tour Grand Prize!
http://transcanadaromancewriters.blogspot.ca/2017/04/spring-tastic-tour.html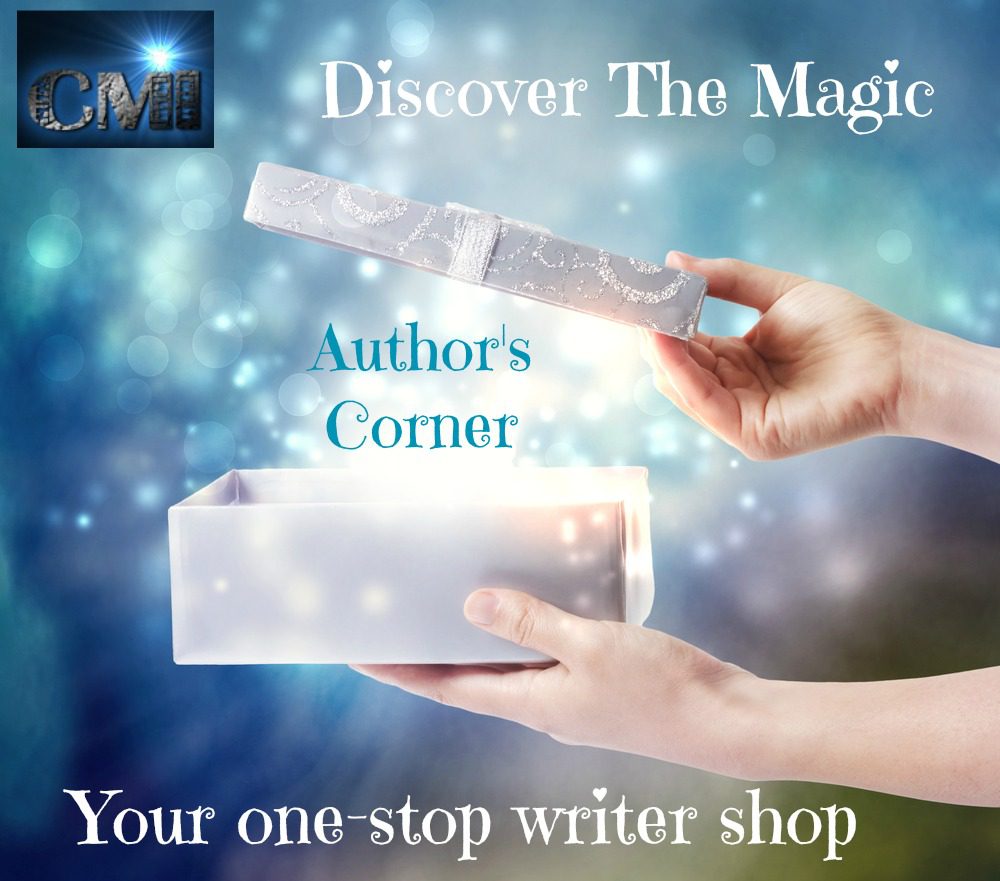 Visit ABA ☛ Author's Corner Shop

Author's Corner is the shop for all things writer and every book-lover. Gifts, T-shirts, swag, contest prizes, jewelry, ornaments, promo, hats, hoodies, tools to help you write right.

Please stop by. I promise, you'll LOVE this shop!

Check out today's HOT buys and sale items inside the store.