Casi McLean's Author Site––Welcome
Thanks For Visiting !
Scroll down to learn more about Casi McLean's Romantic Suspense, Time Slips, and Mystical Stories, all with a dash of supernatural or a sprinkle of Magic … To  give you a proper welcome to Casi McLean's Author Site … and show you how happy I am that you're here, while you learn about me …
YOU get to win prizes!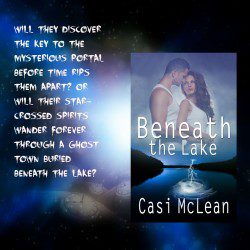 Allow me to sweep you away into a magical time-travel novel, winner of the 2017 Best Romantic Suspense, Beneath The Lake. The eerie lore attached to Atlanta's famous lake is where my Lake Lanier Mysteries series began … 
Beneath The Lake
A ghost town submerged beneath Atlanta's famous man-made Lake Lanier reportedly lures victims to a watery grave. But when Lacey Montgomery's car spins out of control and hurtles into the depths of the icy water, she awakens in the arms of a stranger, in a town she's never heard of–34 years before she was born.
When the 2012 lawyer tangles with a 1949 hunk, fire and ice swirl into a stream of sweltering desire. Bobby Reynolds is smitten the moment the storm-ravaged woman opens her eyes and, despite adamant protest, Lacey falls in love with a town destined for extinction, and the man who vows to save his legacy.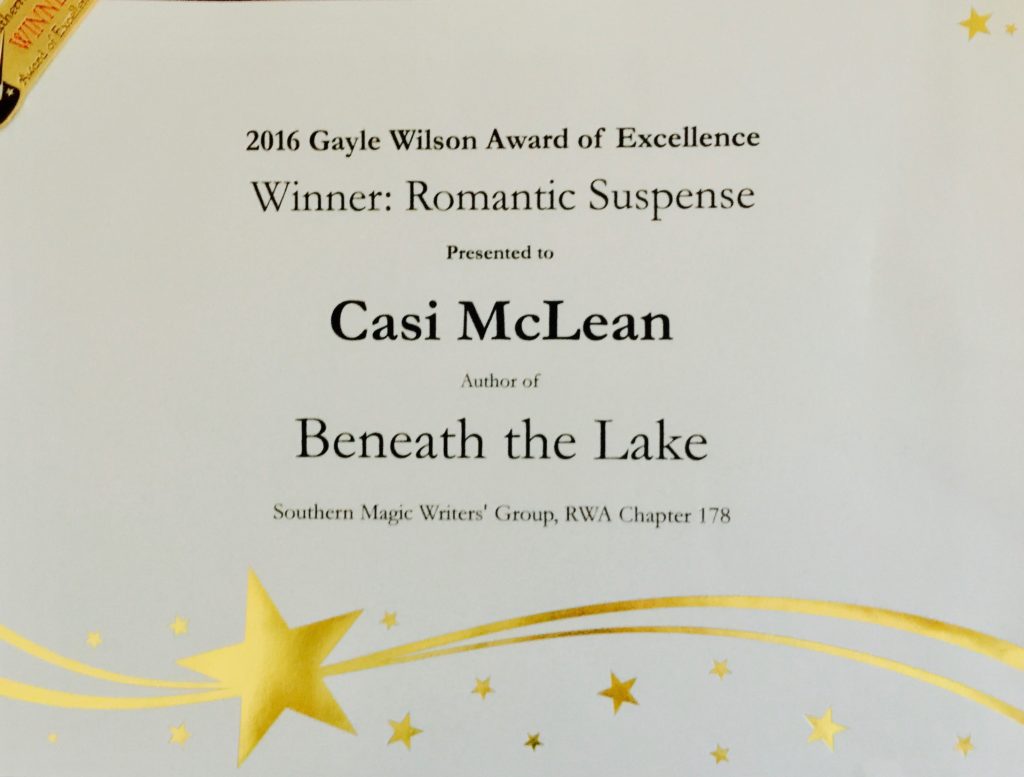 Threatened by a nefarious stalker, the wrath of bootleggers, and twists of fate, Lacey must find the key to a mysterious portal before time rips the lovers apart, leaving their star-crossed spirits to wander forever through a ghost town buried beneath the lake.
Watch the trailer below and read the first chapter for FREE. Just click here: https://spark.adobe.com/page/PYrNjPG6xjHCq/ or Download Beneath The Lake now on Amazon
Announcing Casi's New Release:
BEYOND THE MIST ~ Coming August 2017!
A stand alone timeslip romance, Beyond The Mist is book #2 in my Lake Lanier Mysteries Series and will be released by The Wild Rose Press late this summer. Here is a sneak peek: When a treacherous storm spirals Piper Taylor into the arms of Nick Cramer, an intriguing lawyer, she never expected to fall in love. But when he disappears, she risks her life to find him, unaware the search will thrust her into international espionage, terrorism, and the space-time continuum. Nick leads a charmed life except when it comes to his heart. Haunted by a past relationship, he can't move forward with Piper despite the feelings she evokes. When he stumbles upon a secret portal hidden beneath Atlanta's Lake Lanier, he seizes the chance to correct his mistakes. A slip through time has consequences beyond their wildest dreams. Can Piper find Nick and bring him home before he alters the fabric of time, or will the lovers drift forever Beyond The Mist?
Love romance and stories with a twist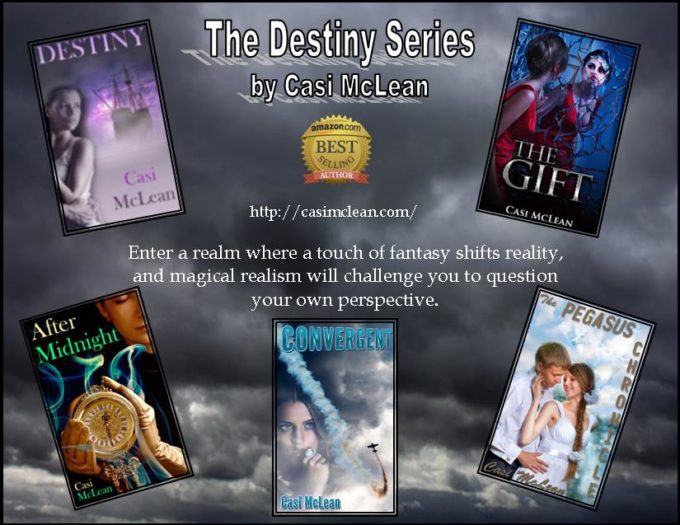 …the kind that take your breath away with a warm excitement and happy tears. Then you'll love my books! But don't take my workd for it. If you crave strong, believable heroines and delicious hot heroes who tempt your deepest desires, then fan the flames and be swept into your innermost romantic fantasies. I promise you'll see, hear, and feel the magical eeriness of each fateful tale as your imagination swirls into mystical stories! My DESTINY series has five novelettes, each with their own sprinkle of magic, but all with a supernatural twist you'll love.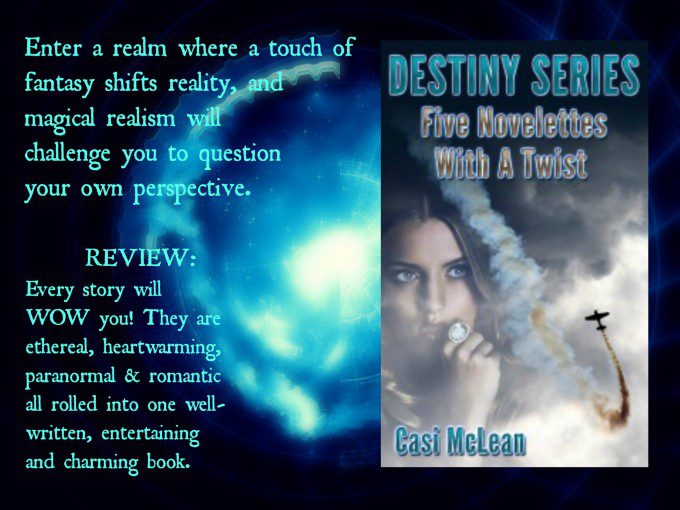 Thanks so much for stopping by. I'd absolutely LOVE for you to
Follow My Amazon Author Page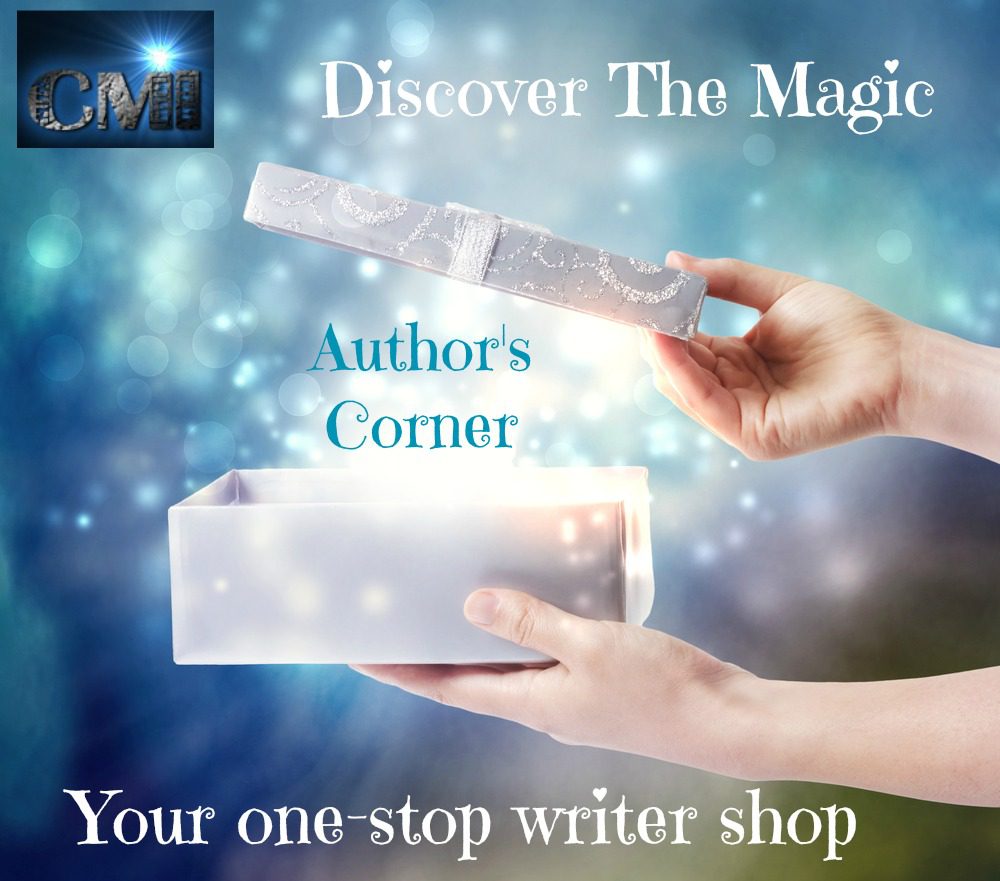 Visit ABA ☛ Author's Corner Shop

Author's Corner is the shop for all things writer and every book-lover. Gifts, T-shirts, swag, contest prizes, jewelry, ornaments, promo, hats, hoodies, tools to help you write right.

Please stop by. I promise, you'll LOVE this shop!

Check out today's HOT buys and sale items inside the store.

SaveSave SaveSave SaveSave SaveSave SaveSave
SaveSave
SaveSave
SaveSave
SaveSave
SaveSave
SaveSave
SaveSave
SaveSave
SaveSave
SaveSave
SaveSave
SaveSave
SaveSave
SaveSave
SaveSave
SaveSave
SaveSave
SaveSave
SaveSave
SaveSave
SaveSave
SaveSave
SaveSave
SaveSave
SaveSave
SaveSave
SaveSave
SaveSave
SaveSave
SaveSave
SaveSave
SaveSave
SaveSave
SaveSave
SaveSave
SaveSave
SaveSave