Tender Enemies
By S.R. Mallery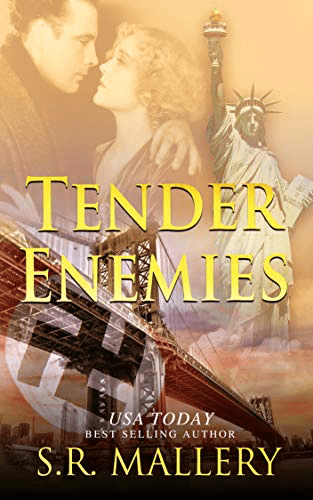 When Lily sets up a spy trap, she faces great danger––of falling in love.
It's 1941 in New York City, a time before Pearl Harbor, when Nazi spies are everywhere in the U.S. and no one knows who's working for whom. In comes beautiful Lily, paid to gather intelligence by setting up a "honey trap" for Joe Stiles, a supposed German infiltrator. Problem is, she soon faces a danger she isn't prepared for––falling in love.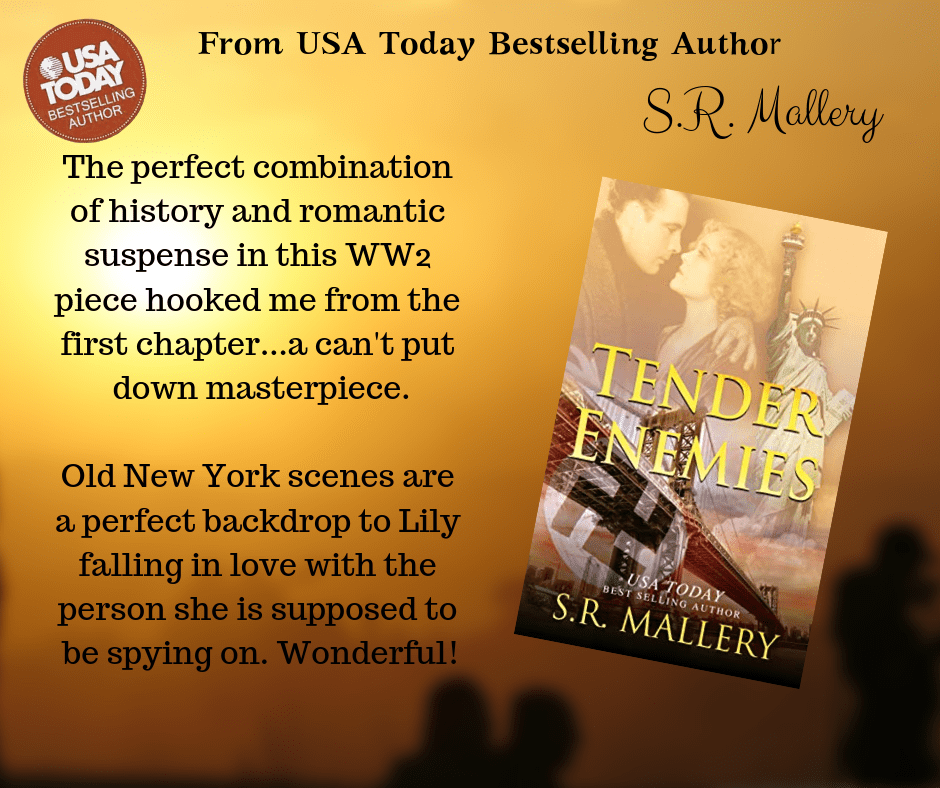 About S. R. Mallery
A USA TODAY Best Selling author and two-time READERS' FAVORITE GOLD MEDAL winner, S. R. Mallery–as her fans say–"brings history to life."
They say I'm as eclectic as my characters. I've been a singer, a composer, a calligrapher, a quilt artist, and an ESL/Reading teacher. But it is the world of writing historical fiction where I feel I've come "home." It's where I've received various awards and in addition, get to do my second love: Research.
When people talk about the news of the day, or when I listen to music, my overactive imagination likens the story to a similar kind of news in the past, which helps me conjure up scenes between characters I've yet to meet.
WHAT READERS ARE SAYING ABOUT S. R. MALLERY'S BOOKS:
Unexpected Gifts: "This is a book to be savored, as there is much information, as well as a captivating story about one family greatly affected by the events of their times. A thought-provoking read indeed!" — Deborah Lloyd for Readers' Favorite
Sewing Can Be Dangerous and Other Small Threads
This is a fascinating collection of anecdotes and historical snippets focusing on the timely art of sewing. – Emily-Jane Hills Orford for READER's FAVORITE
"Mallery is an extremely talented writer. Her style lures the reader; you actually become a part of her tapestry of expression." — Blogger Melinda Hines, on Tales to Count On.
The Dolan Girls "was so enjoyable. At times rollicking, at times poignant, but always authentic, well researched and a beautifully told story. Highest recommendation. Five stars." — B. Nelson, Top Amazon reviewer
Genteel Secrets "is a beautiful story which transports the reader in time. True to life historical fiction at its best, it's so much more than romance." – Riley, Top Amazon reviewer
Trouble in Glamour Town "is very historically accurate, portraying the real workings of the Hollywood sleaze, dishonesty and corruption happening at that time. S.R. Mallery is a gifted author who drew me into the story from the first word and kept me reading until the very last page… " – Trudi LoPreto for Readers' Favorite
SARAH LOVES TO HEAR FROM HER FANS:
BLOG/WEBSITE: https:///www.srmallery.blog
BOOKBUB PAGE: https://www.bookbub.com/authors/s-r-mallery
NEWSLETTER: https://www.subscribepage.com/t6s5a7
TWITTER: https://twitter.com/SarahMallery1
FACEBOOK PAGES:
Personal page: https://www.facebook.com/sarah.mallery.3
Fan Page: http://facebook.com/pages/SR-Mallery-Sarah-Mallery/356495387768574
GOOGLE+: https://plus.google.com/u/0/107388739382996104658/posts
GOODREADS:
https://www.goodreads.com/author/show/7067421.S_R_Mallery
PINTEREST: (I have some good history boards that are getting a lot of attention–history, vintage clothing, older films)
http://www.pinterest.com/sarahmallery1/
Tender Memories #FREE on KU!