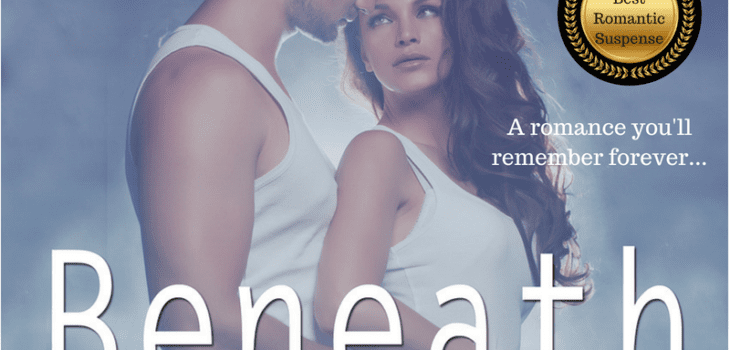 Lake Lanier Mysteries Book #1
Discover where the series began in
Beneath The Lake
Listen to this chapter pulled from the Audible version narrated by Aundrea Mitchell, bringing to life BENEATH THE LAKE…a ghost town time forgot––a romance you'll remember forever!
Beneath The Lake, By USA Today Bestselling Author, Casi McLean, Won 2016 Best Romantic Suspense, Gayle Wilson Award of Excellence. The story was inspired by the freak accidents, strange phenomena, and eerie lore attached to Atlanta's man-made Lake Sidney Lanier. What if the excavation created more than a lake? What if explosions triggered a seismic shift that created a portal connecting past to future? Beneath The Lake, book one in my Lake Lanier Mysteries series evolved from that premise.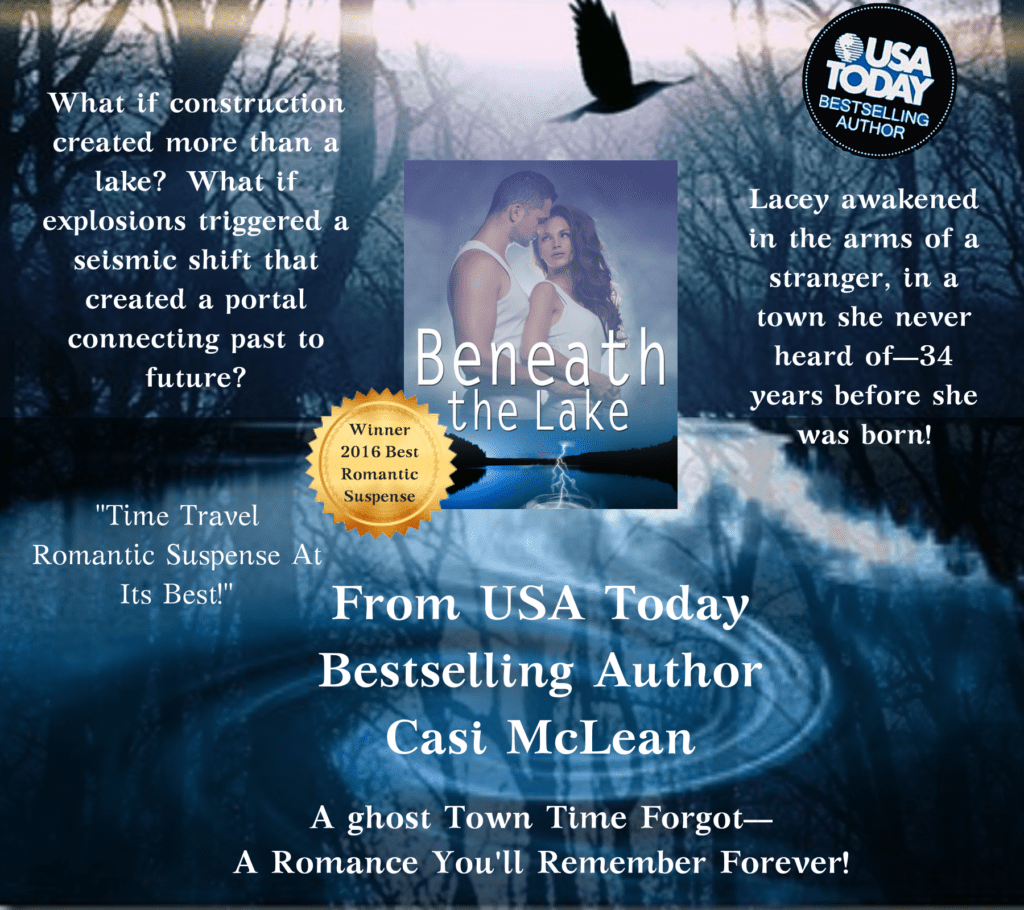 A ghost town submerged beneath Atlanta's famous man-made Lake Lanier reportedly lures victims to a watery grave. But when Lacey Montgomery's car spins out of control and hurtles into the depths of the icy water, she awakens in the arms of a stranger, in a town she's never heard of–34years before she was born.
When the 2012 lawyer tangles with a 1949 hunk, fire and ice swirl into a stream of sweltering desire. Bobby Reynolds is smitten the moment the storm-ravaged woman opens her eyes and, despite adamant protest, Lacey falls in love with a town destined for extinction, and the man who vows to save his legacy.
Threatened by a nefarious stalker, the wrath of bootleggers, and twists of fate, Lacey must find the key to a mysterious portal before time rips the lovers apart, leaving their star-crossed spirits to wander forever through a ghost town buried beneath the lake.
USA TODAY Bestselling author Casi McLean
Romantic Suspense, Time Slips, And Mystery with a Sprinkle of Magic ….
Award Winning Author
2016 Best Romantic Suspense
Winner Gayle Wilson Award of Excellence
Winner 2016 Best Heroine Still Moments Magazine
2016 Aspen Gold Finalist for Best Romantic Suspense
2015 Top Pick by Night Owl Reviews
2015 Chicago Fire and Ice Finalist
2014 Winner 2014 AWC Short Story Award
Author Bio
USA Today Bestselling and Award-Winning author, Casi McLean, pens novels to stir the soul, weaving mystical plots with sensual romance sprinkled with magic. Southern born and bred, she writes with Georgia on her mind. Beneath The Lake, book one in her blockbuster Lake Lanier Mysteries series, won 2016 Best Romantic Suspense Gayle Wilson Award of Excellence.
With lovable characters you'll devour, Ms. McLean lures you into enchanting description where you'll see, hear, and feel the magical eeriness of each fateful tale. You'll swear time travel could happen, be mystified by other worldly images, and feel the heat of romance, but most of all you'll want more.