Merry Christmas
From
Casi McLean
My Elf name is Candy Cane.
My  job at the North Pole is painting red stripes on all the peppermint and making the chocolate treats. I love working with candy, although I must admit I've gained a bit of weight since I started.
The music I listen to while working I an old mixed tape Mrs. Clause gave me with my favorite Christmas songs.
My favorite holiday snack is chocolate Santas … not the hollow ones … all pure chocolate.
And I always drink hot cocoa too, with lots of whipped cream!
I'm a Secret Santa for Twinkle Bright. Shhh, I gave her a Magic Cocoa Cup for Christmas, but don't tell her. The cup gives her a magic ingredient to make her hot chocolate the best in the world.
I'm crafty because I found a way to give everyone a whole book of awesome holiday recipes, including two from my favorite author…Casi McLean.
The book is from her publisher so be sure to download it FREE…Just click the cover.
Now, scroll down for some of Casi's stories
Her FREE Gift for you
Casi loves mystical stories. The kind that leave a warm tingle all over with a tiny "what if" tinge that lingers long after the end. That's why she loves writing magical mysteries and romantic suspense with a sprinkle of supernatural. Mix them all together and shake gently, what do you get? A Christmas gift that shares part of her soul…a gift for everyone who stops by her website. The Gift, is book 2 in her Destiny Series.
A magical Christmas story that will steal your heart: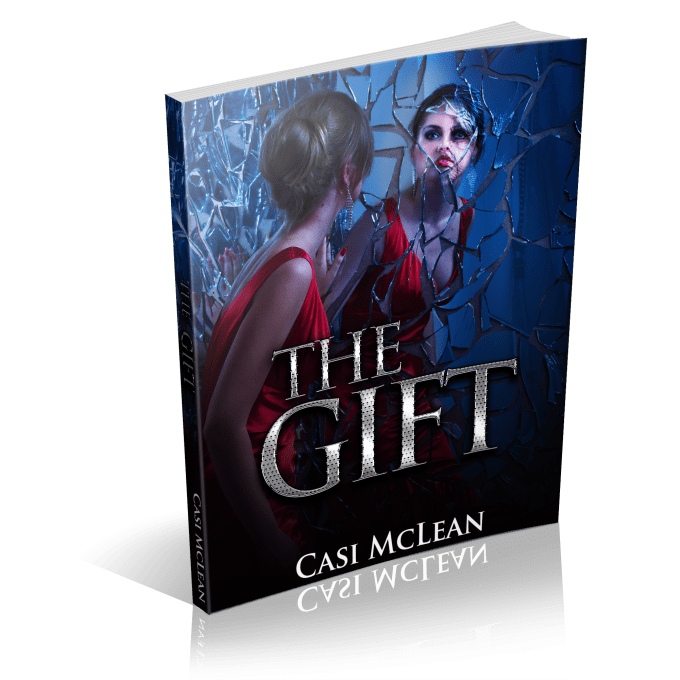 Savanna Bradford's impulsive reaction to her boyfriend Ryan's proposal spirals her into a rendezvous with fate. How could she choose between her dreams and the love of her life? Savannah panicked, took off to the solace of the lake despite the impending snow storm. She had to think, but her brief sabbatical didn't include getting stuck in a ditch in the middle of nowhere, or spending the night with an enigmatic old woman from the twilight zone. Was it fate, or had her accident thrust her into a comatose dream? And will she discover that the mystical gift from her bizarre encounter holds the key to her true destiny before it's too late?
List of other participating Blog Tour sites:
Darlene Fredette – http://www.findingthewritewords.blogspot.com/
Tena Stetler – http://www.tenastetler.com/my-blog/
Barbara Burke – https://barbaraburkeauthor.wordpress.com/
Stacy Holmes – www.writerknapsack.com
M.S. Spencer – http://msspencertalespinner.blogspot.com/
Maureen Bonatch – http://www.maureenbonatch.com/blog/
Nancy Fraser – http://nancyfraser.ca/wordpress/holiday-blog-hop/
Sorchia Dubois – http://www.sorchiadubois.com/
Carol Henry – http://www.carolhenry.org/
Hywela Lyn – www.hywelalyn.blogspot.com
Casi McLean – https://casimclean.com/casis-christmas-…cal-mystery-tour/ ‎
Kayden Claremont. –  https://kaydenclaremont.wordpress.com/
Mariah Lynne – http://mariahlynneauthor.blogspot.com/
K. K. Weil –  http://kkweil.blogspot.com
Clair de Lune – http://www.clairdelunebooks.co.uk/
Linda Carroll-Bradd – http://blog.lindacarroll-bradd.com (participating on Dec 6 only)
AND, if you like The Gift, you'll love the unique magical twist in every DESTINY story. So to encourage you to follow CASI and her books, she put the entire series on sale…FIVE romantic suspense sagas in one book…
For ONLY TWO DAYS during this Christmas Blog Tour
December 5 and 6
SIMPLY SIGN UP FOR HER MONTHLY NEWSLETTER
on the pop-up ==>
And Your FREE Destiny is waiting for you…Five Novelettes With A Twist
[bottom_ads id="6901″]
[bottom_ads id="21076″]