Ace Under Fire
By Stephanie Queen
Can this bad boy make a comeback to save an old flame?
Jeremiah Acerman was a badass back in the day, but he long ago traded in his guns for a computer keyboard. That didn't stop him from saying yes to a call for help–not when it was from that one woman in his life he let slip away and lived to regret it.
Isabella was worth risking his neck. She might even be worth risking his heart. Now the question was whether he…
was up to the challenge of going up against some new badasses south of the border.
There was only one way to find out…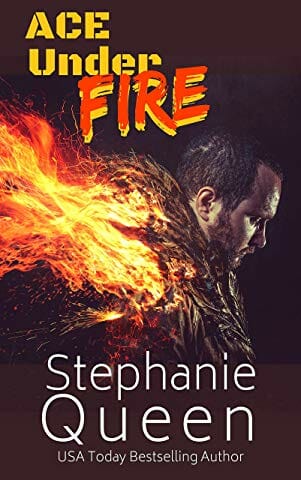 About Stephanie Queen
A USA Today bestselling author of romantic suspense, Stephanie Queen is known for her detective series, like Beachcomber Investigations. She lives in the stunning state of New Hampshire with her family, her cat, Kitty and her fun-loving friends. Besides going to the gym sporadically, Stephanie cooks and crochets and loves chocolate covered potato chips (yes, she should go to the gym more often).
She used to be a 9 to fiver working in downtown Boston, but has thrown her stylish suits and fancy heels in a closet and now hangs out in UConn t-shirts, jeans and sneakers. "If I could come back in another life as anything I wanted, I'd be a regency era heroine." (Not surprisingly) Regency romances are her favorite secret reads.