A Christmas To Remember
Do You Want To Have A Christmas To Remember?
Hello and welcome to my tiny corner of Casi McLean's site. I'm Cassandra, Casi's Christmas Muse, an elf by birth, but I earned these wings! Today I've conjured some amazing magical masterpieces! Of course Casi believes the ideas bubble up from her imagination, so I let her take all the credit. You can keep the secret, right?
Christmas is filled with secrets. And Casi has worked so hard this year with our new release, Beyond The Mist…I wanted to give her a special gift––a Christmas to remember––complete with mystery, magic, decadent desserts and fabulous fun. I hope you'll help me celebrate. I'm preparing all her favorites, so lets get started.
Grab your mp3 player
And let's blast her favorite Christmas song, Santa Baby…or was that MY favorite? Oh well.
She'll be thrilled to see her favorite recipe. Have you ever heard of Chocolate Covered Katie? She's incredible. She has an endless stream of decadent desserts and they are all healthy! Can you believe the treat below is HEALTHY? I searched through every one to find a recipe Casi will flip over. Or was this the one I couldn't wait to try? Hmm. No biggie, she'll love it too. Want a peek? Okay, but don't tell her.
Here's the amazing recipe:
Above, topped with Coconut Ice Cream.
So what the heck is a pizookie???
It's something between a pie and a cookie. A giant, gooey, melty and delicious deep dish chocolate chip cookie. Sounds pretty fantastic, right?!
Katie's roommate, Emily, and Katie invited a bunch of friends over for a housewarming party, and she wanted to christen the new oven in style. So she figured it was a great time to test out an idea she'd been meaning to try for a few months: a pumpkin deep dish cookie pie–with lots of chocolate chips–reminiscent of the Pizookies they sell at the chain restaurant, BJ's Brewhouse (if BJ's made a pumpkin version, which they sadly don't).
Have you ever heard of a pizookie? Apparently, the name is a combination of "pizza" and "cookie" and was first coined by BJ's Brewhouse. Their website says BJ's offers Red Velvet pizookies and Triple Chocolate ones. Hmmmm… what flavor should she try next?
To say this pumpkin pizookie was a huge success would be an understatement! More than one person at the party said it was the best pie he or she had ever eaten. Seriously, do not worry about serving the following recipe to a crowd of "non-healthy" eaters. They will devour this healthier chocolate chip pie like there is no tomorrow.
Read more at:
https://chocolatecoveredkatie.com/2011/10/24/its-a-chocolate-pumpkin-pizookie/#tF5hMte4E0jwZf1S.99
For more fabulous recipes, you have to check out Chocolate Covered Katie!
Now, I know how hard it is to keep a secret, so I think I'll give you an incentive. If you click this link: https://www.bookbub.com/authors/casi-mclean and follow Casi on BookBub, then comment at the bottom of THIS page and tell me who is your favorite Author and what she/he writes? If you do, you will enter for a chance to win Casi's incredible Destiny Series…that's 5 novelettes, each with a magical twist ending. Check out the trailer and blurb on her landing page: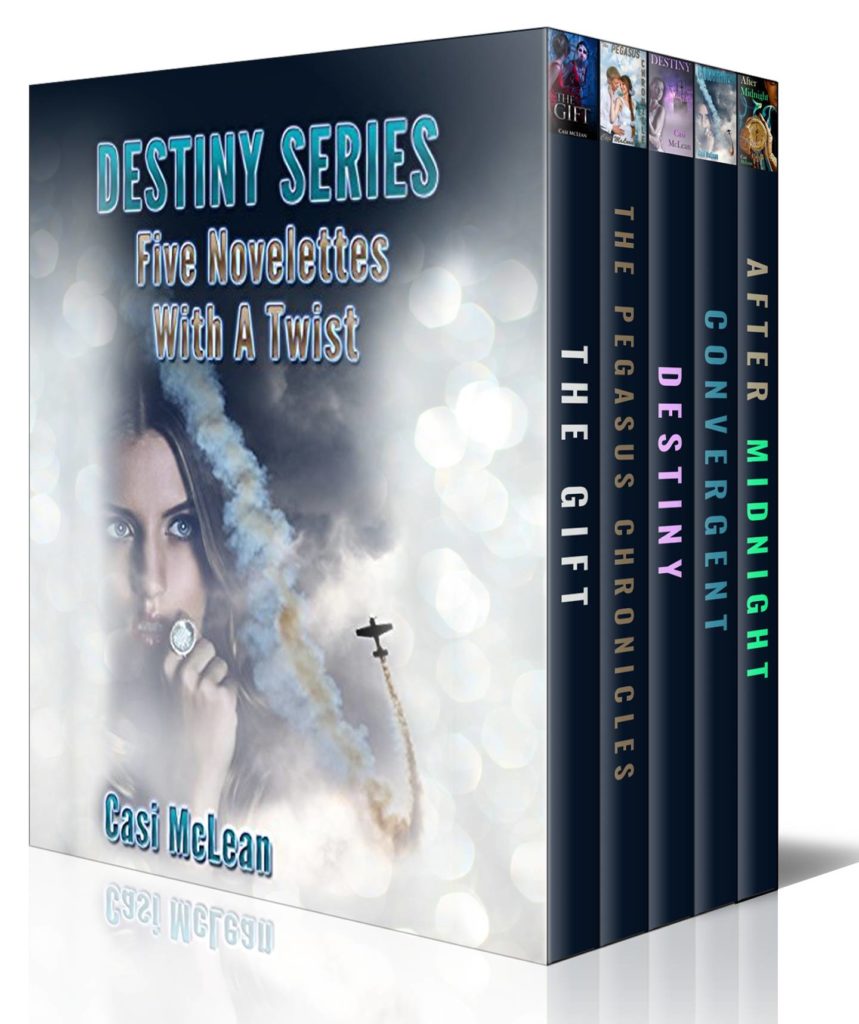 Our giveaway winners will be drawn and announced on December 11.
I don't want to forget to mention our new release, Beyond The Mist, book 2 in her fabulous Lake Lanier Mysteries. Check it out along with our other magical books on her landing page:
Can star-crossed lovers survive a cyclone of international espionage, terrorism, and the space-time continuum?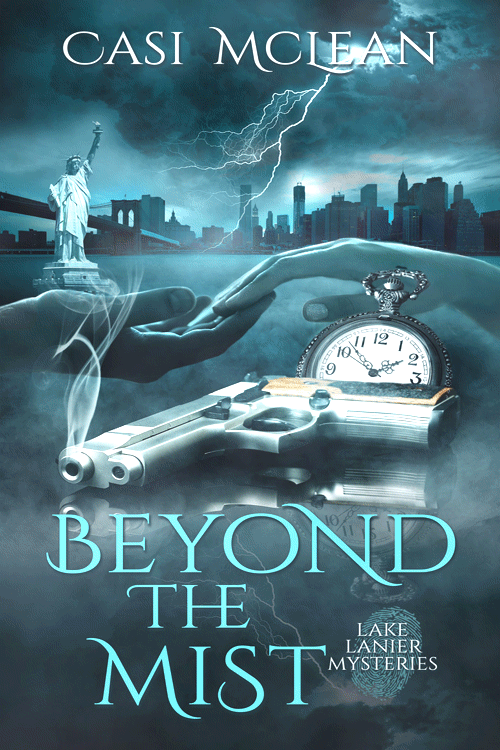 The trailer will blow you away!
Piper Taylor concedes she'll never fall in love, until a treacherous storm spirals her into the arms of the handsome Nick Cramer. Unrelenting remorse over a past relationship haunts Nick, but he can't deny the mysterious connection and hot desire Piper evokes.
The allure of a secret portal hidden beneath Atlanta's Lake Lanier tempts him into seizing the opportunity to change his mistakes. But his time slip triggers consequences beyond his wildest dreams.
Can Piper avoid the international espionage and terrorism of 2001 New York, find Nick, and bring him home before he alters the fabric of time, or will the lovers drift forever Beyond The Mist?
I hope you enjoyed a sneak peek into Casi's Christmas to remember. But don't stop here… There are miles to go before you sleep…hey, that's a good line. See how creative I am! I have opened the magic trail so you can proceed to your next stop––Just check the list I materialized below and have fun on the Highway Cafe Christmas Blog Hop!
December 4
Holland Rae – https://hollandrae.com/
Susanne Matthews – https://mhsusannematthews.wordpress.com/
Sorchia DuBois – www.sorchiadubois.com
Mariah Lynne –

December 5
Tena Stetler – http://www.tenastetler.com/category/my-say-what-blog/
Maureen Bonatch – http://www.maureenbonatch.com/blog/
Peggy Jaeger – https://peggyjaeger.com/
Barbara Burke – https://barbaraburkeauthor.wordpress.com/

December 6
Kelly Kalmanson – http://kkweil.blogspot.com
M.S. Spencer – http://msspencertalespinner.blogspot.com
Hywela Lyn – www.hywelalyn.blogspot.com
Reggie Alder – https://reggiallder.blogspot.com/

December 7
Denyse Bridger – http://www.fantasypages.ca
Clair de Lune – https://clairdelunebooks.co.uk/
Karen Blake-Hall – https://kaydenclaremont.wordpress.com/
Casi McLean -THAT'S US!

December 8
Darlene Fredette – http://findingthewritewords.blogspot.com
Daryl Devore – http://daryldevore.blogspot.ca
Gini Rifkin – http://ginirifkin.blogspot.com
Linda Carroll-Bradd – http://blog.lindacarroll-bradd.com
SaveSave
SaveSave
SaveSave
SaveSave
SaveSave
SaveSave
SaveSave
SaveSave
SaveSave
SaveSave
SaveSave
SaveSave
SaveSave
SaveSave
SaveSave
SaveSave
SaveSave
SaveSave
← Back
Next →